Digital Sensor Toolkit License
Product information "DS.T.3 - Digital Temperature Sensor"
Fully calibrated,

High accuracy 0.3 K,

Very low power consumption,

Excellent long term stability,

Mountable housing, incl. 5 m cable,

Operating temperature range -50 to +150 °C,

Details
The DS.T.3 is a temperature sensor for digital acquisition and measurement of temperatures. Due to the digital processing directly inside the sensor there are no special cables or extensions necessary. The resolution of the sensor is 0.1 K at a high absolute precision of 0.3 K at a fast response time. The sensor offers a high long term stability thanks to the laser calibration. The sensor communicates with the control unit by means of a digital protocol (e.g. SPI), which has to be implemented on the control unit. For this purpose S.E.A. provides a ready-to-use solution. As the electrical interface a SEA 9210 Multifunction I/O Module is perfectly suitable, as it provides an adequate sensor supply source beside the required high-speed digital I/O lines. The Digital Software Toolkit was created as the software inter. This software offers function palettes incl. examples in LabVIEW, provding a fast and easy integration into user applications. The Digital Sensor Toolkit basically allows an operation with other cRIO modules different than SEA 9210, as long as suitable high-speed digital lines and sensor supply are ensured by the user.
Scope of Delivery
1 * DS.T.3 Digital Temperature Sensor (67000616)
1 * Printed hardware manual incl. operation instructions, safety guidelines and specifications
Optional Accessories
SEA 9210 Multifunction I/O Module (60000083)
Digital Sensor Toolkit (61000145)
You may also be interested in...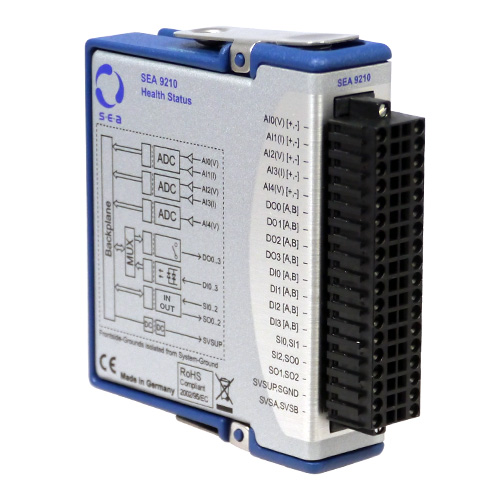 SEA 9210 Multifunction I/O Module - Kit
Multiple channel types in one module,3 Differential analog inputs, 0 to 36 V, 16 bit, 1.1 kS/s,2 Differential analog inputs, ± 80mV, 16 bit, 1.3 kS/s to measure current via shunt,4 Digital inputs, max. 30 V, 5 V-TTL-logic, max. 18 kHz,4 Relay outputs, max. 48 V (1A), max. 50 Hz,6 direct FPGA I/O's, 5 V CMOS-logic (each with 3 inputs and outputs), max. 10 MHz,Internal voltage source, switchable (3.3 / 5 VDC)Operating temperature range -40 to +70 °CDetailsThe SEA 9210 Multifunction I/O module for NI CompactRIO is an universal, compact and cost-effective solution for applications that require only few channels, but different channel types. The combination of analog inputs, binary in- and outputs and direct FPGA lines makes the SEA 9210 suitable for a wide range of applications, for example:Diagnosis and monitoring of autonomous CompactRIO systems (System status, supply status...)Supervision of environment parameter (temperature, pressure, humidity, air quality...)Supervision of mechanical stress (shock, vibration...)The module offers 3 analog channels for voltage measurements and 2 analog channels for current measurements (over an external shunt resistor). Two voltage channels and two current channels share a common Analog-Digital converter (ADC) respectively, enabling el. power measurements on two independent channels. The basic function of the analog channels is shown in the image SEA 9210 Analog Input above. The 4 digital inputs can be used to monitor binary system states (e.g. 'Door Open!'). The wide input range offers a great tolerance with respect to the system signal levels. The 4 digital outputs can be used to control system components (e.g. switches, lamps, etc.).The SEA 9210 Multifunction I/O Module offers direct FPGA lines along with an integrated power source to incorporate devices with digital interfaces. Typically, these devices are digital sensors with a digital SPI, I2C or similar communication interface. These sensors often require an external power supply, which can be provided by the integrated power source of the module. All I/O channels are insulated against the backplane. The principle of function is shown in the image SEA 9210 Block Diagram above.System RequirementsNI CompactRIO™ with a FPGA chassis (currently not compatible with NI cRIO-904x/905x. For further questions please contact techsupport@sea-gmbh.com)LabVIEW™ 2011 or higherScope of Delivery1 * SEA 9210 incl. 1* connector block (60000083)1 * Printed hardware manual incl. operation instructions, safety guidelines and specificationsAccessoriesShunt resistor for current measurements (61000125)DS.A.3 Digital 3-Axis IMU Sensor (67000614)DS.GAM.333 Digital 9-Axis IMU Sensor (67000615)Digital Temperature Sensor (67000616)More Information