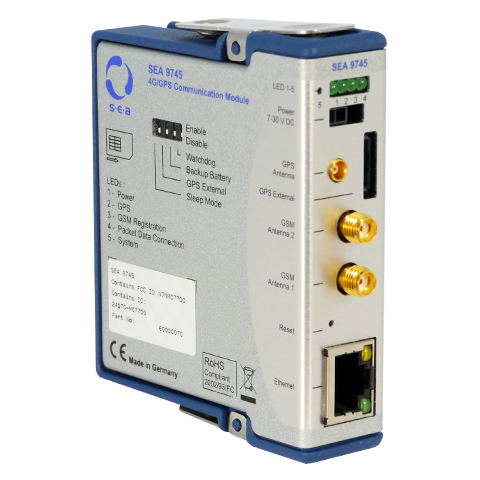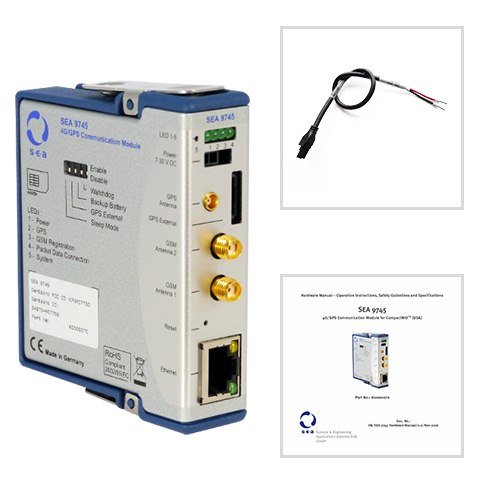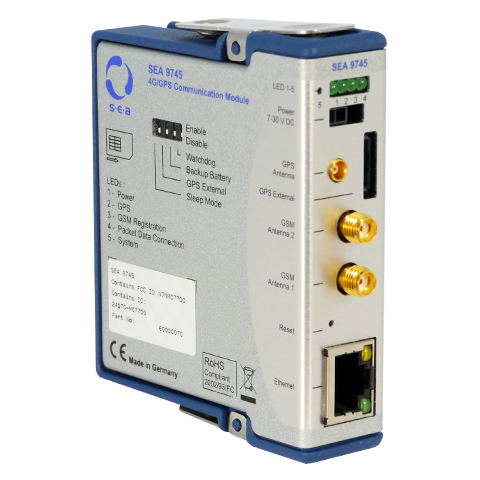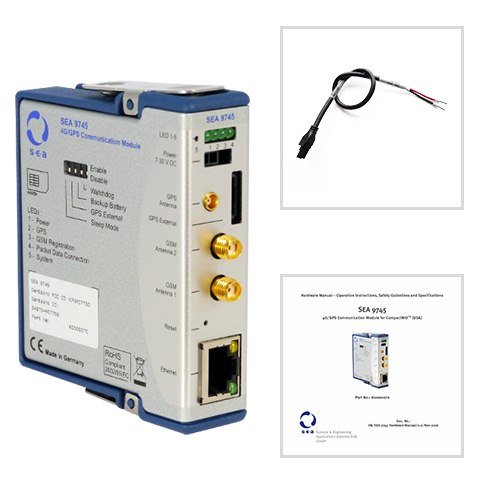 Product number:
60000070-CFG
SEA 9745 Module
Mandatory
SEA 9745 4G Mobile Communication Module
Mandatory Accessory
Mandatory
cRIO Module Power Supply Cable 2-pin
10/100 Ethernet Bridge Cable 30cm
Repair & Warranty Program
3 Year Repair & Warranty Program (add. 2 years) for SEA 9745
Product information "SEA 9745 4G Mobile Communication Module - Configuration"
Only for USA (AT&T, T-Mobile)!

Tri-band in 4G networks: 700 / 1700 (AWS, B4) / 2100 MHz

Tri-band in 3G networks: 850 / 1900 / 2100 MHz

Quad-band in 2G networks: 850 / 900 / 1800 / 1900 MHz

Gross data rate up to 100 Mbit/s (DL) and 50 Mbit/s (UL) via LTE

Remote access via mobile network (VPN)

Text messages via SMS

GPS for geo-positioning, timing and synchronization

Web-based configuration

Operating temperature range from -25 to +60 °C
Details
The SEA 9745 is a high performance cRIO module for communication in mobile networks of the latest generation (4G). The module operates as a data modem, providing access to the internet via mobile networks. For the communication all currently available standards and protocols like GPRS/EDGE (2G), UMTS/HSPA (3G) or LTE (4G) can be used. The maximum gross data transmission rates are up to 50 Mbit/sec for upload and up to 100 Mbit/sec for download in 4G (LTE) networks.
The integrated high-sensitive-50-channel GPS receiver provides an accurate geo-position and precise time information with an update rate of up to 4 Hz. For timing, synchronisation or triggering, the module supplies an additional time pulse output signal (TTL) to the backplane. A built-in backup battery enables cold starts within few seconds for a fast GPS position determination (GPS fix). SEA 9745 provides a socket for connecting of external GPS receivers, if special requirements for the GPS functionality exist.
​The Mini-SIM card reader is located on the backside of the module with mechanical lock mechanism. Micro-SIM cards can be used with a corresponding adapter.
The module is directly connected by the Ethernet-bridge cable with the CompactRIO Real-Time Controller. The power supply of 7 to 30 VDC can be done with the enclosed power cable via the CompactRIO DC supply.
Scope of Delivery
1 * SEA 9745 (60000070)
1 * Printed hardware manual incl. operation instructions, safety guidelines and specifications
Accessory
Ethernet-bridge cable (61000051)
Notes
This module is made for operation in USA. For other countries use SEA 9744.
This module can be used in all CompactRIO systems with FPGA backplane. The use in CompactDAQ systems with real-time controller (eg NI cDAQ-9132) or stand-alone is also possible if no GPS data is needed directly in the FPGA (see tab Product FAQ).
CompactRIO Products Home
| | |
| --- | --- |
| SEA Top Seller: | most popular |
Broshure Downloads "SEA 9745 4G Mobile Communication Module - Configuration"
What are the requirements for a development environment?

PC with the software as follows:

• JKI VI Package Manager (VIPM) – latest available version

•

SEA 9745 driver software

• NI LabVIEW™ Development environment 2017 or higher

• NI LabVIEW Real-Time 2017 or higher

• NI LabVIEW FPGA 2017 or higher + suitable Xilinx tools

• NI CompactRIO™ drivers 2017 or higher

What are the requirements for a run-time environment?

NI CompactRIO™ system with the software as follows:

• NI LabVIEW™ Run-Time Engine / LabVIEW Run-Time Engine for Real-Time targets (standard installation)

SEA 9745 module can basically be operated with any device which provides an Ethernet interface and is capable of running LabVIEW code. The NI CompactRIO system with FPGA is required if low-latency timing functionality of the integrated GPS receiver is crucial for the operation. However, the GPS information is also available via the Ethernet connection, though at costs of higher latency.