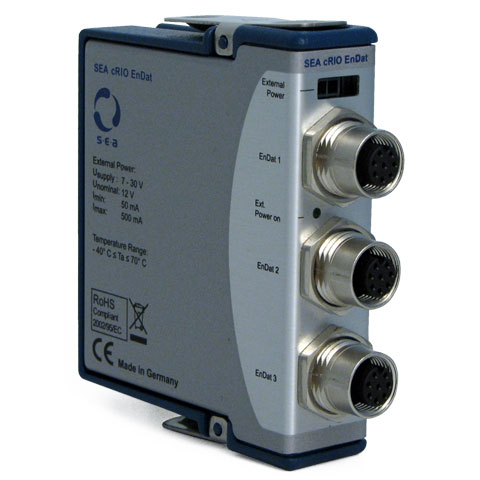 Product information "SEA 9510 EnDat Encoder Interface Module"
cRIO module with 3 digital EnDat 2 interfaces to connect absolute digital position encoder from Heidenhain with the CompactRIO system from National Instruments.
Details
The position can be readout at high speed and with digital accuracy. The build in FPGA supports EnDat Clock Speeds of up to 8MHz and allows the synchronous read out of 3 axis in parallel. Besides the digital position data also sensor or calibration information can be readout or written. The software driver access to the position data can be done directly within the LabVIEW FPGA software via IO nodes and method nodes. The digital connection and power supply of the sensors can be done directly via the build in M12 connectors. Look for EnDat encoders at http://www.heidenhain.com/en_US/products-and-applications/angle-measurement/rotary-encoders/.
Driver software is delivered as download link.
Scope of delivery

1 * SEA 9510 (60000006)
1 * Printed hardware manual incl. operation instructions, safety guidelines and specifications
Accessory

Power cable (61000011), is mandatory for the operation
Sensor Cable for BiSS/EnDat Modules (61000607), is mandatory for the operation
Broshure Downloads "SEA 9510 EnDat Encoder Interface Module"
You may also be interested in...
SEA 9521 BiSS-C/SSI Encoder Interface Module
cRIO BiSS-C/SSI interface module to connect up to 3 absolute digital position encoder for use with the National Instruments CompactRIO system or R-series expansion chassis.DetailsSEA 9521 BiSS Interface Module with 3 BiSS-C interfaces to connect absolute digital position encoder from various vendors for use with the CompactRIO system from National Instruments. The position can be readout at high speed and with digital accuracy. The build in FPGA supports BiSS clock speeds of up to 8MHz and allows the read out of 3 channels. Besides the digital position data also sensor or calibration information can be readout or written. Module supports optional also the SSI protocol. The software driver access to the position data can be done directly within the LabVIEW FPGA software via IO nodes and method nodes. The digital connection and power supply of the sensors can be done directly via the build in M12 connectors. Approved rotary encoder you can get from various vendors e.g. www.hengstler.com or www.renishaw.com. Scope of delivery 1 * SEA 9521 (60000069) 1 * Printed hardware manual incl. operation instructions, safety guidelines and specifications Accessory Power cable (61000011), is mandatory for the operationSensor Cable for BiSS/EnDat Modules (61000607), is mandatory for the operationMore Information