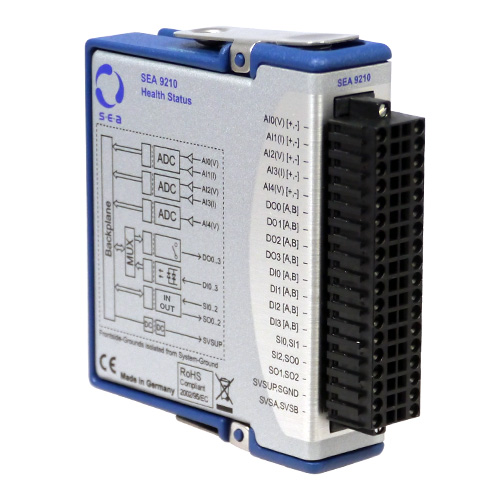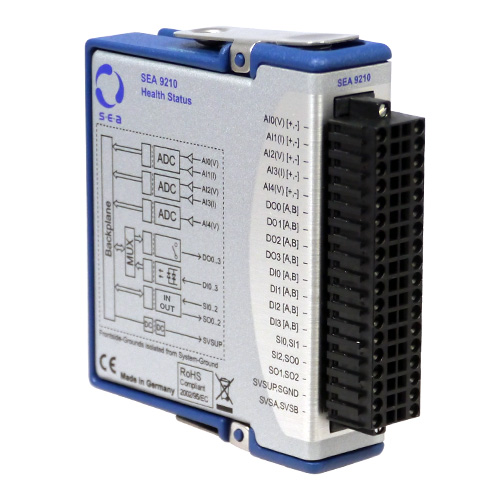 Product information "SEA 9210 Multifunction I/O Module"
Multiple channel types in one module,

3 Differential analog inputs, 0 to 36 V, 16 bit, 1.1 kS/s,

2 Differential analog inputs, ± 80mV, 16 bit, 1.3 kS/s to measure current via shunt,

4 Digital inputs, max. 30 V, 5 V-TTL-logic, max. 18 kHz,

4 Relay outputs, max. 48 V (1A), max. 50 Hz,

6 direct FPGA I/O's, 5 V CMOS-logic (each with 3 inputs and outputs), max. 10 MHz,


Internal voltage source, switchable (3.3 / 5 VDC)

Operating temperature range -40 to +70 °C
Details
The SEA 9210 Multifunction I/O module for NI CompactRIO is an universal, compact and cost-effective solution for applications that require only few channels, but different channel types. The combination of analog inputs, binary in- and outputs and direct FPGA lines makes the SEA 9210 suitable for a wide range of applications, for example:
Diagnosis and monitoring of autonomous CompactRIO systems (System status, supply status...)

Supervision of environment parameter (temperature, pressure, humidity, air quality...)

Supervision of mechanical stress (shock, vibration...)
The module offers 3 analog channels for voltage measurements and 2 analog channels for current measurements (over an external shunt resistor). Two voltage channels and two current channels share a common Analog-Digital converter (ADC) respectively, enabling el. power measurements on two independent channels. The basic function of the analog channels is shown in the image SEA 9210 Analog Input above. The 4 digital inputs can be used to monitor binary system states (e.g. 'Door Open!'). The wide input range offers a great tolerance with respect to the system signal levels. The 4 digital outputs can be used to control system components (e.g. switches, lamps, etc.).
The SEA 9210 Multifunction I/O Module offers direct FPGA lines along with an integrated power source to incorporate devices with digital interfaces. Typically, these devices are digital sensors with a digital SPI, I2C or similar communication interface. These sensors often require an external power supply, which can be provided by the integrated power source of the module. All I/O channels are insulated against the backplane. The principle of function is shown in the image SEA 9210 Block Diagram above.
System Requirements
NI CompactRIO™ with a FPGA chassis (currently not compatible with NI cRIO-904x/905x. For further questions please contact techsupport@sea-gmbh.com)
LabVIEW™ 2011 or higher
Scope of Delivery
1 * SEA 9210 incl. 1* connector block (60000083)
1 * Printed hardware manual incl. operation instructions, safety guidelines and specifications
Broshure Downloads "SEA 9210 Multifunction I/O Module"