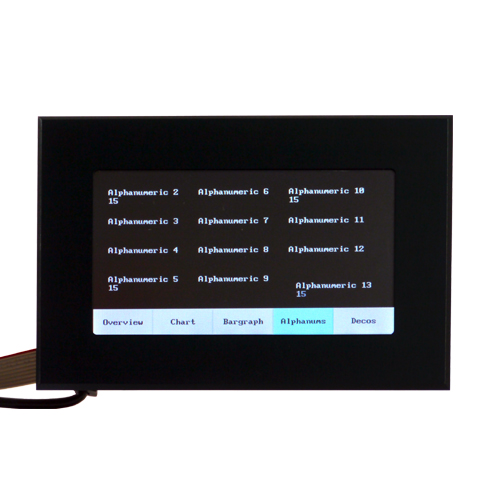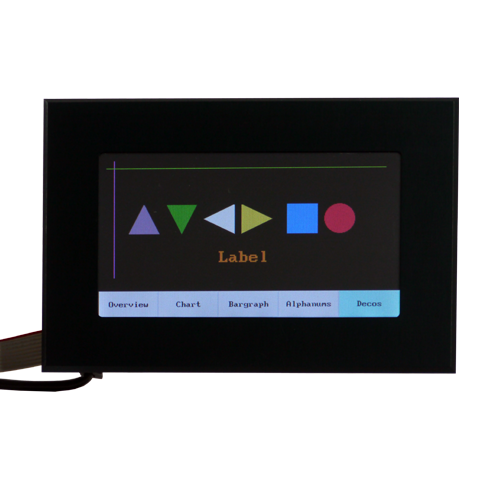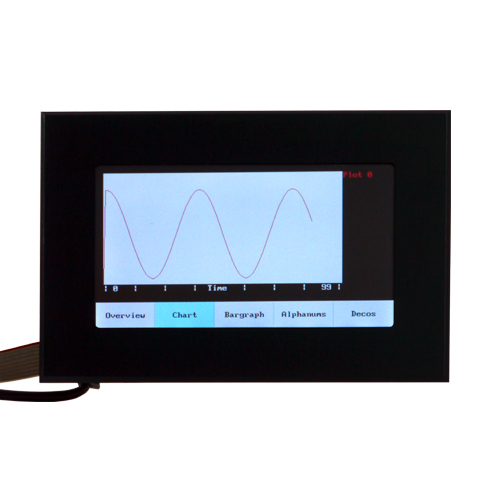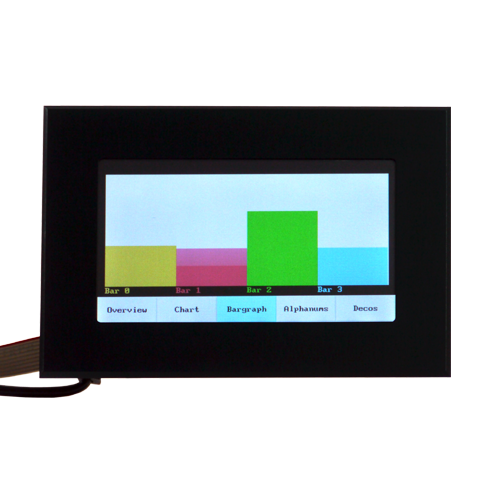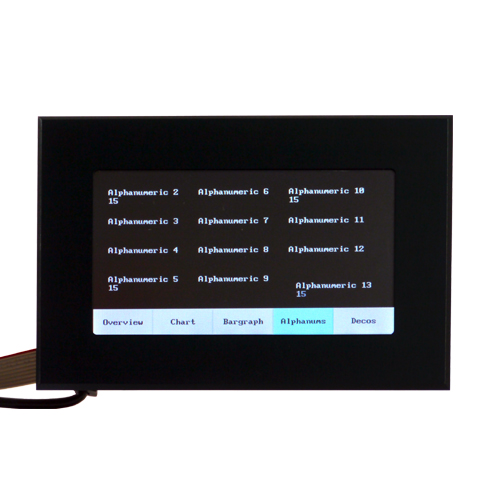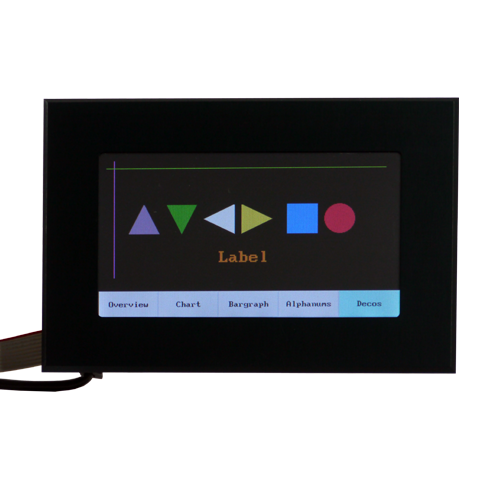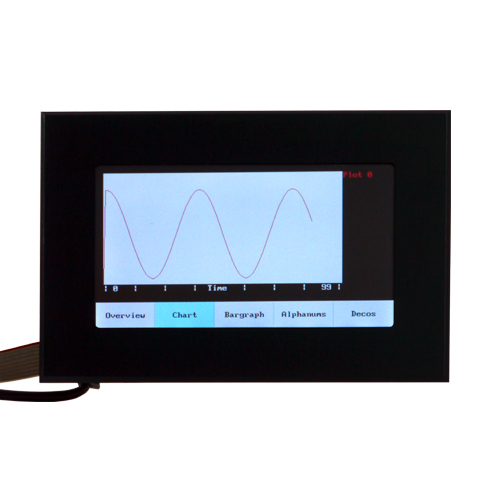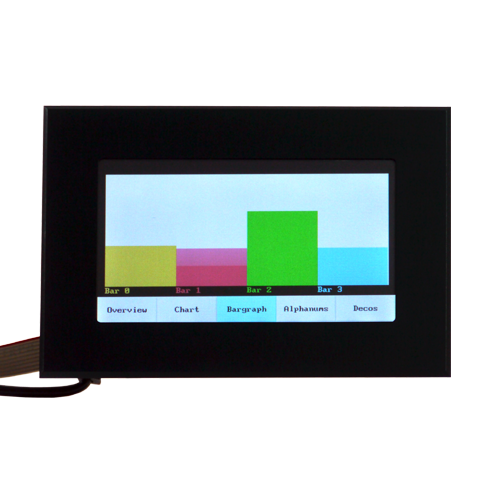 Graphical Screen Editor License
Repair & Warranty Program
3 Year Repair & Warranty Program (add. 2 years) for SEA 4914
Product information "SEA 4914 4.3" Display Module Kit"
High-Resolution 4.3" LCD graphic display with 272 x 480 pixel,
Resistive touch screen,

Brilliance of color, 65K True Colour,

13 general Purpose IOs, separately definable as input or output,

Mounting kit consisting of: Massive aluminum frame, anodized (color: black, similar to RAL 9005), clamp bracket and two screws,

Directly connectable to NI CompactRIO, NI Single-Board RIO, PC and further devices,
Operating temperature range from -15 °C to +65°C
Details
The SEA 4914 is perfectly suitable for displaying simple text based information like acquisition data, but also for complex graphical objects like buttons, charts or bar graphs. The wide viewing angle of the LCD screen and the brilliance of color ensures a high picture quality. The touch function allows the implementation of interactive control and monitoring applications. The software drivers provides a comprehensive, but easy-to-use programming library (API) for LabVIEW 2013 or higher. The highlight is a graphic editor, to create complete screens directly in LabVIEW. The SEA 4914 can be operated with any device featuring a RS-232 serial interface. For operation of an application on the connected device a LabVIEW Run-Time or Development Environment is required.
Scope of delivery
1* SEA 4914 4.3" Display (61000136)
1* Mounting kit consisting of 1* Frame (61000130), 1* clamp bracket (61000131) and fittings
1* Printed hardware manual incl. operation instructions, safety guidelines and specifications
1* Power cable (61000011)
1* Communication cable RS-232 (61000056)
Broshure Downloads "SEA 4914 4.3" Display Module Kit"
You may also be interested in...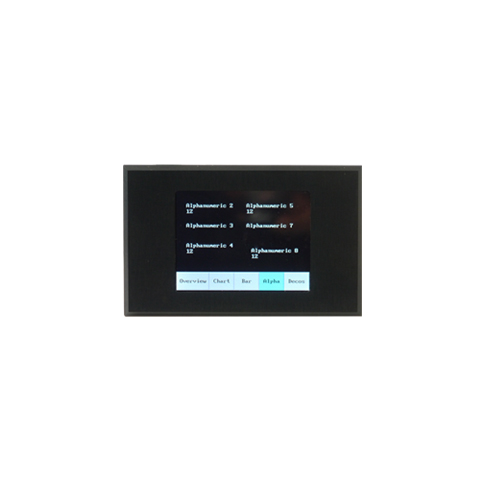 SEA 4912 2.4" Display Module Kit
High-Resolution 2.4" LCD graphic display with 240 x 320 pixel, Resistive touch screen, Brilliance of colour, 65K True Colour, 12 general Purpose IOs, separately definable as input or output, Mounting kit consisting of: Frame made of massive aluminium, anodized (colour: petrol, similar to RAL 6012),clamp bracket and two screws, Directly connetable to NI CompactRIO, NI Single-Board RIO, PC and further devices, Operating temperature range from -15 °C to +65°CDetailsThe SEA 4912 is perfectly suitable for displaying simple text based information like acquisition data, but also for complex graphical objects like buttons, charts or bar graphs. The wide viewing angle of the LCD screen ensures a high picture quality and brilliance of colour, even at huge angle. The touch function allows the implementation of interactive control and monitoring applications. The software drivers provides a comprehensive, but easy-to-use programming library (API) for LabVIEW. The highlight is a graphic editor, to create complete screens directly in LabVIEW. The SEA 4912 can be operated with any device providing a RS-232 interface. For operation of an application on the connected device a LabVIEW Run-Time or Development Environment is required.Scope of delivery1* SEA 4912 2.4" Display (61000126)1* Mounting kit consisting of 1* Frame (61000129), 1* clamp bracket (61000132) and fittings1* Printed hardware manual incl. operation instructions, safety guidelines and specifications1* Power cable (61000011)1* Communication cable RS-232 (61000056)More Information