Product information "LTE-V Add-On for LabVIEW - RF-COMPLIANCE"
LTE-V LabVIEW RF-COMPLIANCE for NI VST/USRP and LabVIEW 2015 or higher
The LTE-V RF-COMPLIANCE delivers unique access to the 3GPP TS 36.300 standard in LabVIEW™ for the future V2X (Vehicle-To-Anything) communications based on NI™ hardware platform NI USRP. It includes (a) a LabVIEW API (functions palette) incl. examples for programming LTE-V-based applications in LabVIEW and (b) the Host Control Manager (HCM) for interaction with the local communications hardware.
The RF-COMPLIANCE package enables transmission (send + receive) of regular LTE-V packets (MAC + PHY layer) and offers precise timing of the MPDU-packet output as well as precise time information of the received packets. In addition to this the RF-COMPLIANCE package adds features to measure and validate the RF-signals.
At present following hardware is supported:
NI USRP-2953
NI USRP-2954
NI PXIe-5644 (VST)
The package is designed for high-load communication, in-depth stressing and debugging the functionality of LTE-V-capable devices in development, validation and research applications.
You may also be interested in...
LTE-V Add-On for LabVIEW - MONITORING
Simulate dense traffic/stress LTE-V communication up to the theoretical limit of LTE-V. Catch LTE-V messages for extended monitoring and testing (even invalid frames). Inject erroneous messages overriding MAC control and timing (even with corrupt frame content). Generate precisely timed LTE-V message streams for LTE-V and V2X validation. Get precise timestamps of Rx and Tx activities (coupled to a user-configurable reference clock). Synchronize LTE-V message streams to other signals such as CAN, GNSS simulation, and more.DetailsThe LTE-V MONITORING delivers unique access to the 3GPP TS 36.300 (Release 14 / Mode-4 sidelink) standard in LabVIEW™ for the future V2X (Vehicle-To-Anything) communications based on NI™ hardware platform NI USRP. It includes (a) a LabVIEW API (functions palette) incl. examples for programming LTE-V-based applications in LabVIEW and (b) the Host Control Manager (HCM) for interaction with the local communication hardware.The MONITORING package enables transmission (send + receive) of regular LTE-V packets (MAC + PHY layer) and offers precise timing of the MPDU-packet output as well as precise time information of the received packets. In addition the package adds features for failure injection by data and timing manipulation (Packet Replay) as well as monitoring of the data traffic using standardized protocol TZSP.At present following hardware is supported:NI USRP-2953NI USRP-2954The package is designed for high-load communication, in-depth stressing and debugging the functionality of LTE-V-capable devices in development, validation and research applications.For the API LabVIEW 2014 or higher (development version) is required. The HCM requires LabVIEW 2015 Run-Time Engine as well as suitable device drivers (NI USRP or NI VST), version 15.More Information
LTE-V Add-On for LabVIEW - MONITORING+CEM
Simulate dense traffic/stress LTE-V communication up to the theoretical limit of LTE-V. Catch LTE-V messages for extended monitoring and testing (even invalid frames). Inject erroneous messages overriding MAC control and timing (even with corrupt frame content). Generate precisely timed LTE-V message streams for LTE-V and V2X validation. Get precise timestamps of Rx and Tx activities (coupled to a user-configurable reference clock). Synchronize LTE-V message streams to other signals such as CAN, GNSS simulation, and more. Contains the Channel Emulation function package. DetailsThe LTE-V MONITORING delivers unique access to the 3GPP TS 36.300 (Release 14 / Mode-4 sidelink) standard in LabVIEW™ for the future V2X (Vehicle-To-Anything) communications based on NI™ hardware platform NI USRP. It includes (a) a LabVIEW API (functions palette) incl. examples for programming LTE-V-based applications in LabVIEW and (b) the Host Control Manager (HCM) for interaction with the local communication hardware. It contains the Channel Emulation function package.The MONITORING package enables transmission (send + receive) of regular LTE-V packets (MAC + PHY layer) and offers precise timing of the MPDU-packet output as well as precise time information of the received packets. In addition the package adds features for failure injection by data and timing manipulation (Packet Replay) as well as monitoring of the data traffic using standardized protocol TZSP.At present following hardware is supported:NI USRP-2953NI USRP-2954The package is designed for high-load communication, in-depth stressing and debugging the functionality of LTE-V-capable devices in development, validation and research applications.For the API LabVIEW 2014 or higher (development version) is required. The HCM requires LabVIEW 2015 Run-Time Engine as well as suitable device drivers (NI USRP or NI VST), version 15.More Information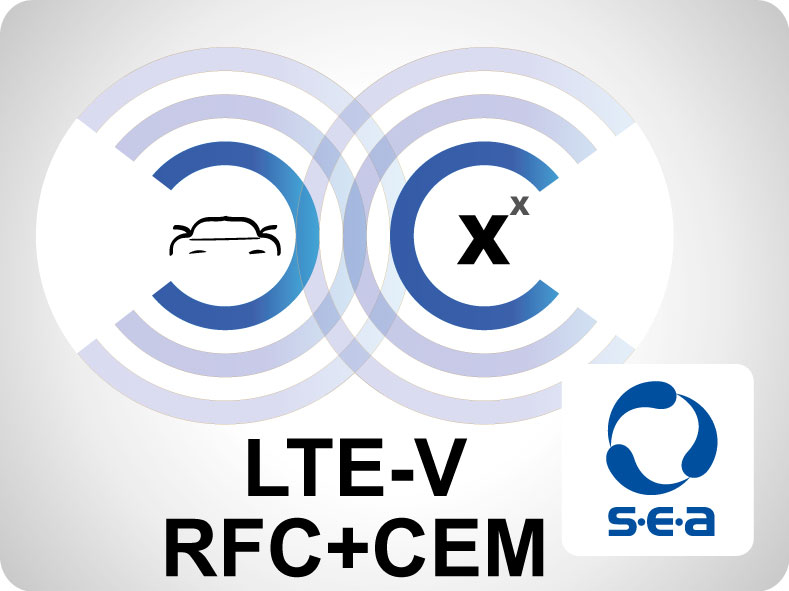 LTE-V Add-On for LabVIEW - RF-COMPLIANCE+CEM
Contains the Channel Emulation function package. DetailsThe LTE-V RF-COMPLIANCE delivers unique access to the 3GPP TS 36.300 standard in LabVIEW™ for the future V2X (Vehicle-To-Anything) communications based on NI™ hardware platform NI USRP. It includes (a) a LabVIEW API (functions pallete) incl. examples for programming LTE-V-based applications in LabVIEW and (b) the Host Control Manager (HCM) for interaction with the local communications hardware. In addition, it contains the Channel Emulation function package.The RF-COMPLIANCE package enables transmission (send + receive) of regular LTE-V packets (MAC + PHY layer) and offers precise timing of the MPDU-packet output and precise time information of the received packets. In addition to this the RF-COMPLIANCE package adds features to measure and validate the RF-signals.At present following hardware is supported:NI USRP-2953NI USRP-2954NI PXIe-5644 (VST)The package is designed for high-load communication, in-depth stressing and debugging the functionality of LTE-V-capable devices in development, validation and research applications.More Information